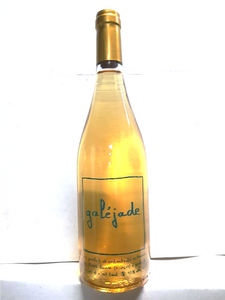 A late Spring 2017 freeze resulted in very low yields of all varieties and the decision to combine the Chardonnay and Pinot Noir. Smokey on the nose. Oxidative mouth, dry finish, lower VA than customary for Pierre's wines.
Country:
France
Region: 
Languedoc
Appellation:
Vin de France
Grape varieties:
80% Chardonnay, 20% Pinot Noir
Style:
White
ABV:
13% by vol.
Vineyard Size/yield:
 5 hectares/2.5 hl/ha
Soil:
 Clay-limestone (from "la Mothe" parcel)
Elevation:
175 meters, with light northern exposure
Average age of vines:
 20 years
Farming:
 Practicing organic (vines farmed organically since planting in 1999-2001)
Harvest:
 By hand. No destemming.
Vinification:
  Chardonnay and Pinot Noir harvested and vinified together. Direct press (September 2&3, 2017). Spontaneous fermentation with indigenous yeasts. No fining. No filtration.
Aging:
Stainless steel. Bottled September 30, 2019.
Sulfur added:
 None
Production:
480 bottles